產品描述
Finally, a pack built for general outdoor, backpacking, and mountaineering use featuring our patented OVERLOAD® feature. Your new secret weapon when carrying awkward, excessive loads.
An expandable load hauler for your biggest mountain adventures. The new TERRAFRAME 65 is for mountain zealots who need options when going big. We've offered the OVERLOAD® feature in hunting and military packs for years, yet backcountry climbers, fisherman, guides and others have been asking for a mountain-inspired version of this versatile, load-taming design. Featuring rigid, carbon fiber frame stays, the suspension allows an ideal amount of torsional flex while providing ample support for loads up to 150 lbs.
Mystery Ranch Backpack Size Guide
Getting Your Size
The key to a confortable pack load is the properly fitting backpack. We've designed a more custom fit into our packs with simple sizing based off two measurements. To find the appropriate size waist and yoke for your pack, collect the following two measurements, then reference the sizing chart below.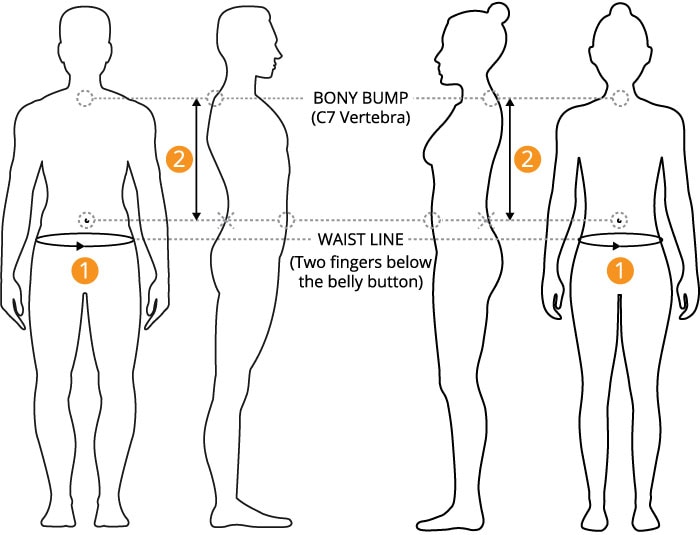 1 Waist Circumference
Measure around your waist just above the top of your hip bones (roughly two fingers below your belly button).
2 Torso
Use a tailors tape measure or string and have a friend measure between the bony bump at the base of your neck (C7 vertebra) to the spot on your spine that is just behind your belly button.
Men's/Unisex Sizing
S

M
L
XL
Torso
Waist

Torso

Waist

Torso

Waist

Torso

Waist

S/M
XS/S
S/M
S/M
L/XL
M/L
L/XL
L/XL

15 - 20 in

38 - 51 cm

26 - 36 in

66 - 91 cm

15-20in

38-51cm

31-36in

79-92cm

17 - 24 in

43 - 61 cm

35 - 40+ in

89 - 102+ cm

17-24in

43-61cm

39+ in 

100+cm
S/M
L/XL
Torso
Waist

Torso

Waist

15 - 20 in

38 - 51 cm

26 - 36 in

66 - 91 cm

17 - 24 in

43 - 61 cm

35 - 40+ in

89 - 102+ cm
PLEASE NOTE: The sizing depicted above is specific to the sizes available for this item and does not reflect all available sizes for all items. To view all available MYSTERY RANCH sizing options
In Between Sizes?
If you are between sizes on the waist belt, we recommend you size down. If you are between sizes on the yoke or if your measurements fall outside standard sizing, please contact Customer Service at 1.833.548.1999. Purchasing packs outside of standard sizing is possible through our Custom Sizing Program. There is typically an additional cost associated with this purchase.